Wellnoa
Regular price
Sale price
£19.99 GBP
Unit price
per
Sale
Sold out
Wellness has never tasted so good.
Forgot to eat your greens? 
As your gut health sidekick, we're helping your digestive system work exactly as it should – like clockwork.
Powering up the immune system, alkalising the body, and flushing out those nasties, it's never been easier to make time for your greens.
Simply mix two teaspoons with water, juice, or a smoothie, and sip your toxins away. Enjoy hot or cold.
Under 85p per serving ! One tub will last for 2 months.

IT'S ORGANIC – No additives. No sweeteners. Just easy-to-drink, simply goodness at your fingertips.
DELICIOUS – Unlocking a fruity sweetness, we're shaking up everything you think you know about green drinks.

GO GREEN – It's not just healthy. We love planet Earth, so with every order you place, we'll plant a tree.
Share
View full details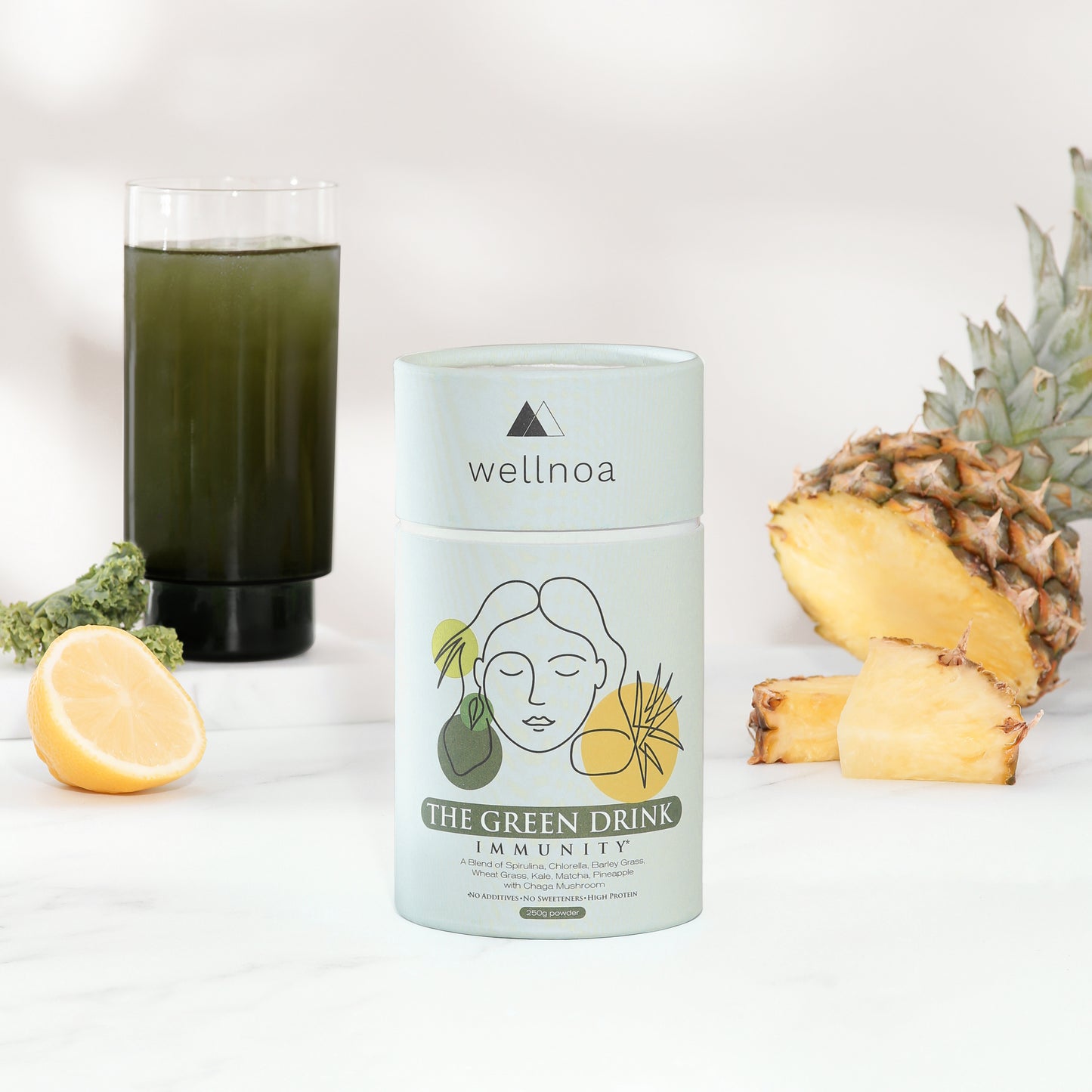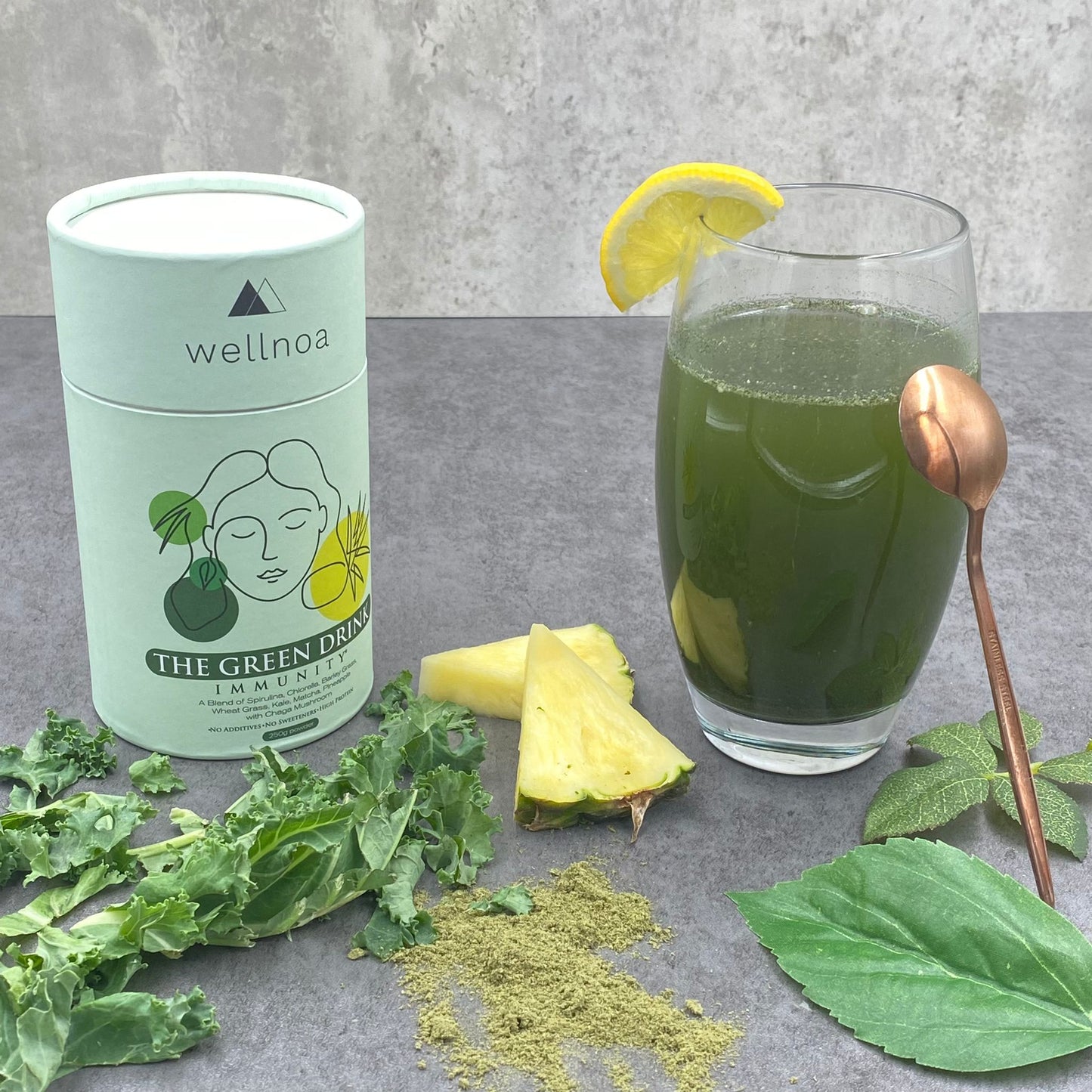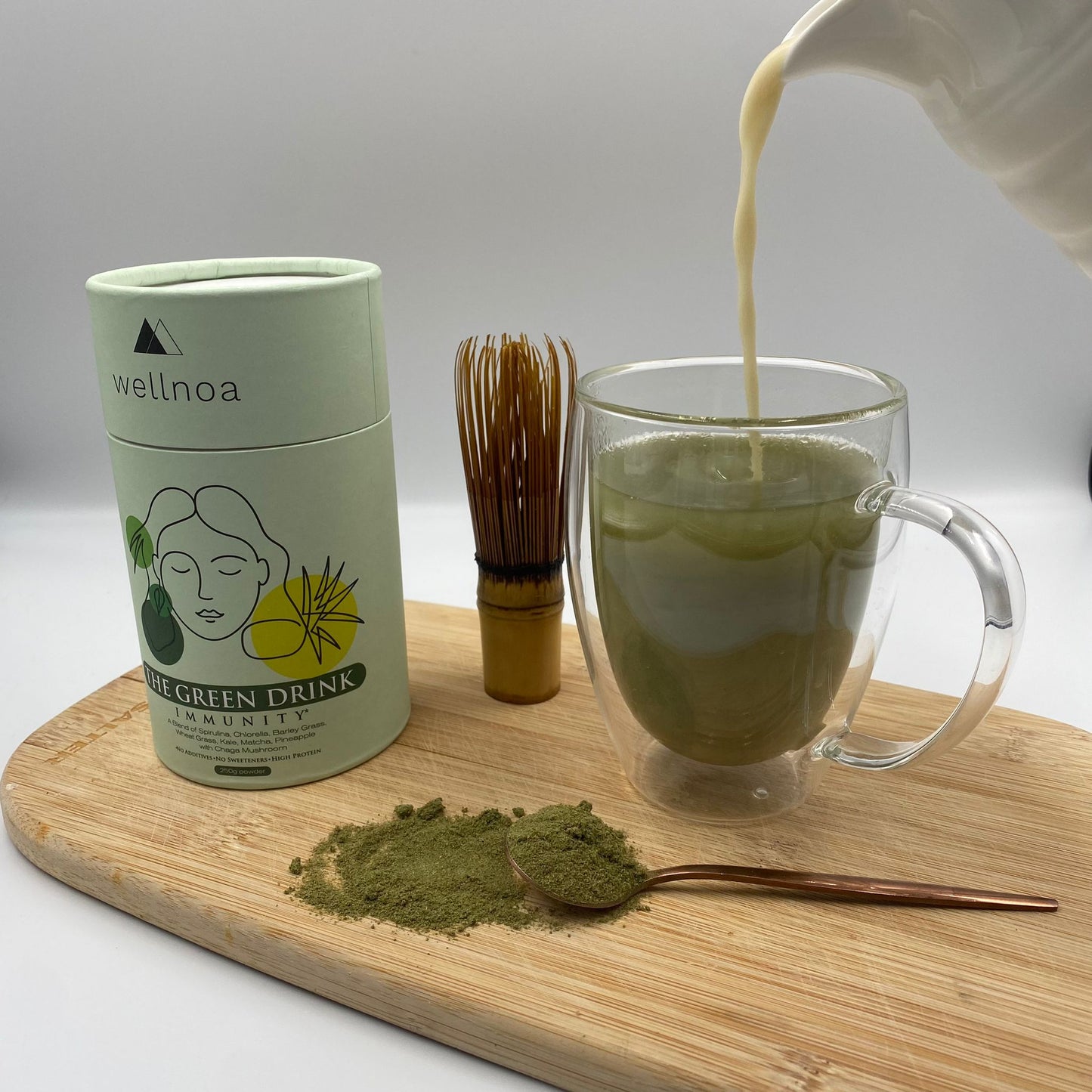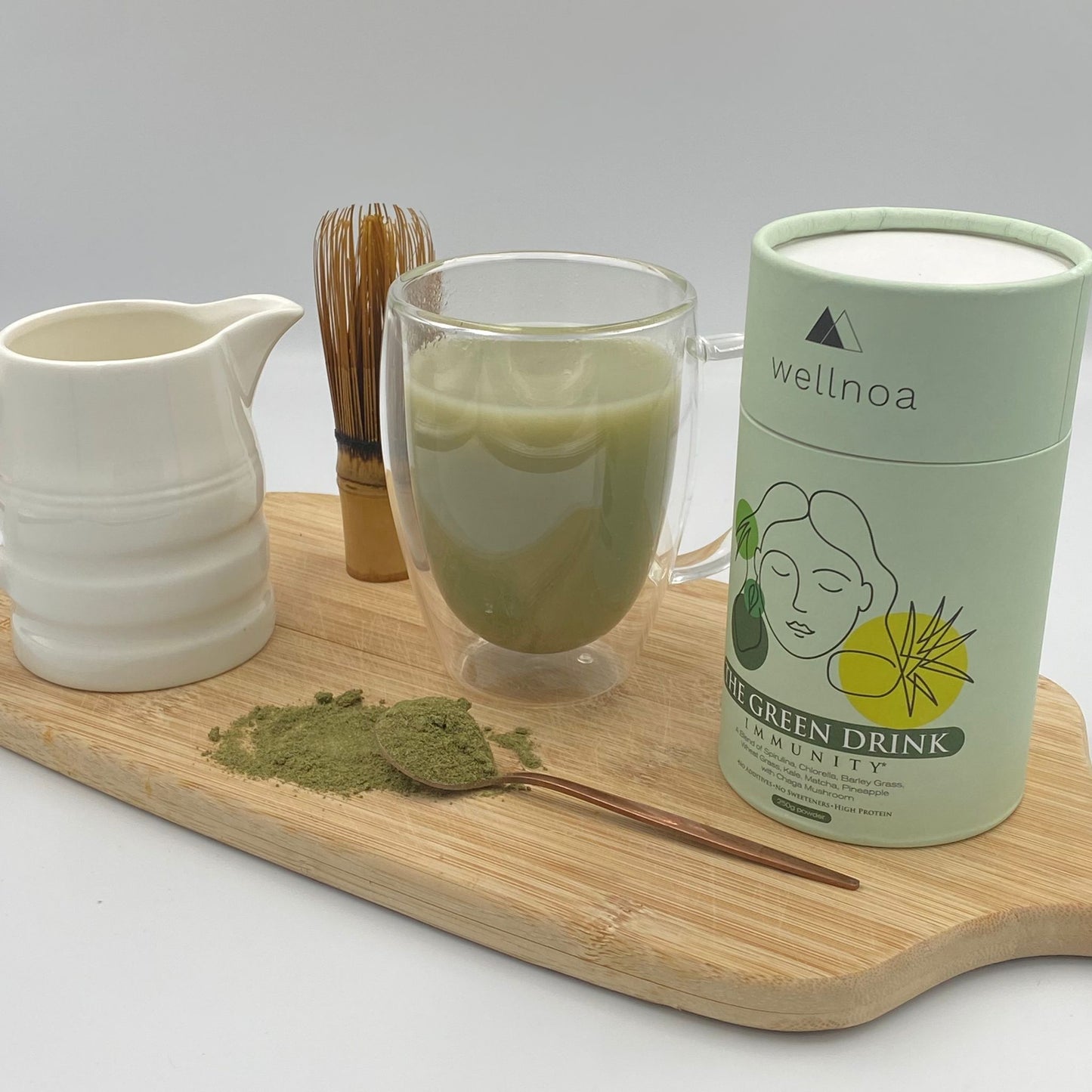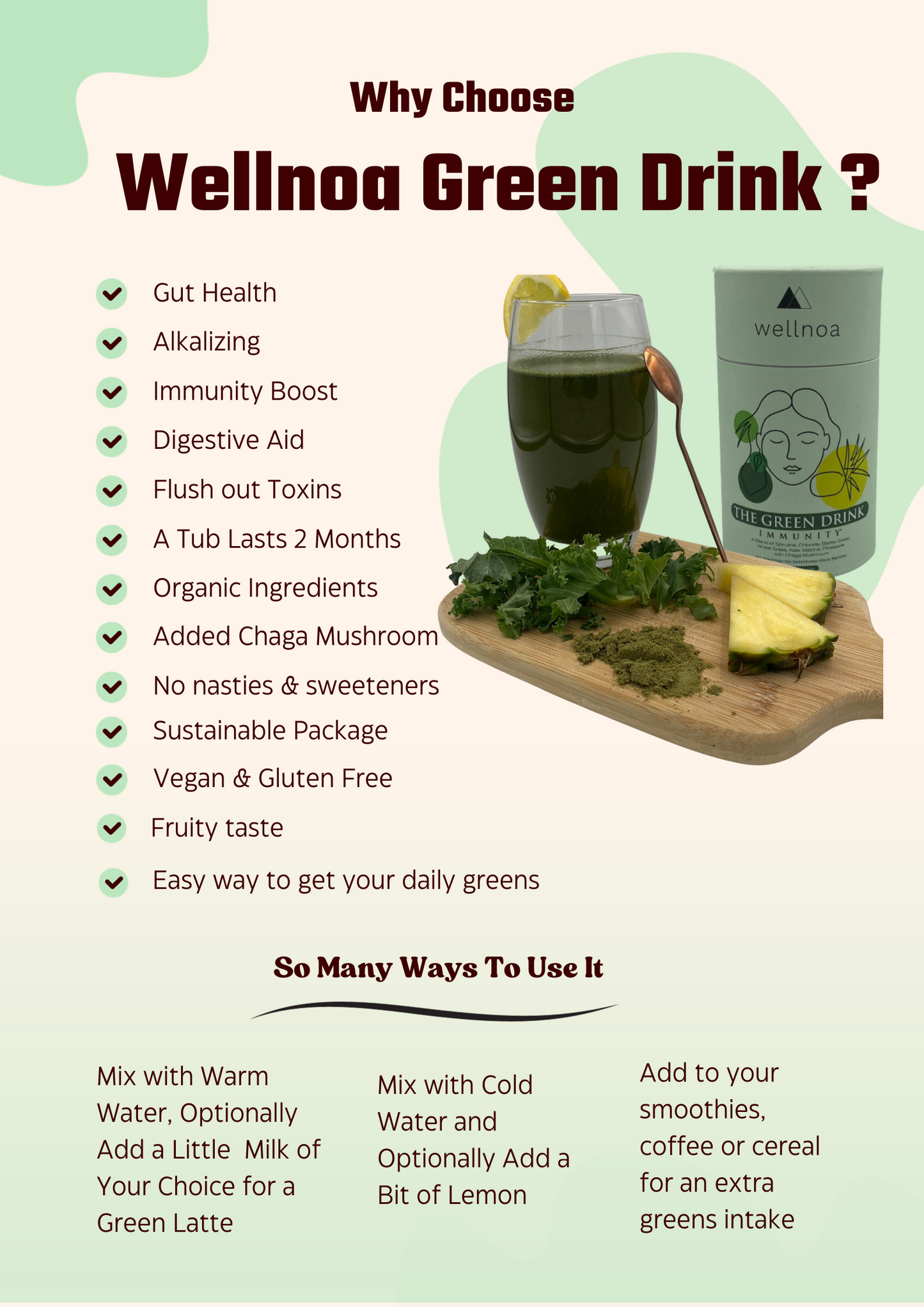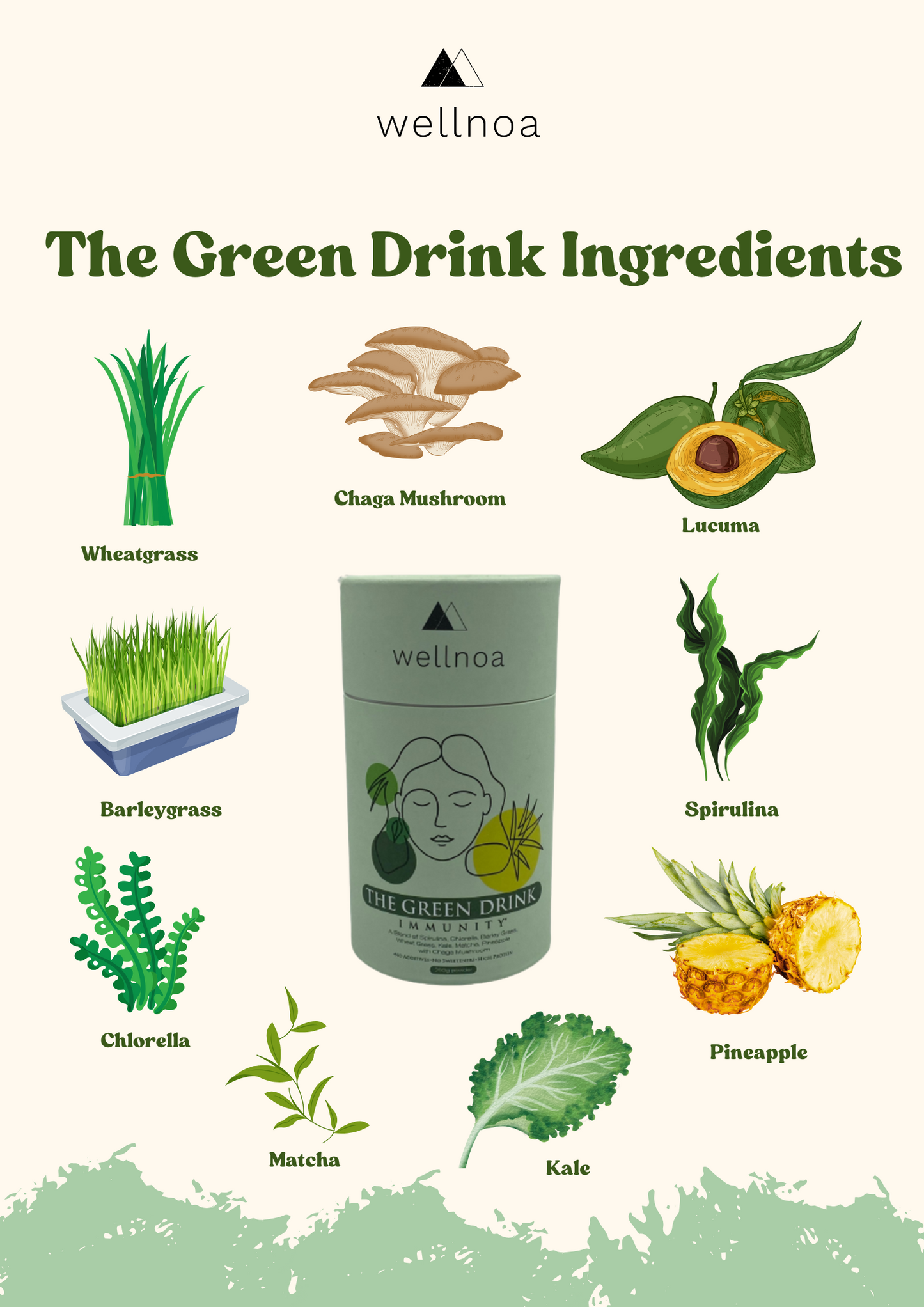 Collapsible content
Ingredients

Wheat Grass Powder*, Barley Grass Powder*, Lucuma Powder*, Pineapple  Powder*, Spirulina Powder*, Chlorella Powder* Kale Powder*, Matcha Powder*, Lemon Juice Extract, Chaga Mushroom Powder*

*Organic

95% Organic Ingredients
How To Use

To Drink

Mix with cold water or add into smoothies to enjoy a refreshing green drink.

Mix with hot water and add a little milk of your choice to enjoy a warm green latte.

Stir a few more times while drinking.

To Eat

Sprinkle over salads, yogurts or mix into bakery.
FAQ

How much water should I use?

We suggest a full glass for a minimum, you can increase as you like.

How much powder should I use ?

We suggest minimum a heaped teaspoon, you will still get some goodness from it if you use less. Adjust as you like.

Why is this product good for me ?

Wheat Grass : Has antioxidant, antibacterial, and anti inflammatory properties, as well as benefits to immunological activity and oxidative stress.
It can eliminate toxins. The detox effects of wheatgrass can clean your intestines. This helps you experience less gas, bloating, and abdominal discomfort.
Wheatgrass may also help relieve constipation, irritable bowel syndrome, and other digestive issues. It can give you energy and improve blood sugar levels.
Barley Grass : Reduces toxic build up in the body. It improves skin health and elasticity. It reduces cholesterol and repairs DNA. It supports immune system and has a rejuvenating effect.
Lucuma : Contains a variety of antioxidants. For instance, research shows that lucuma is particularly rich in polyphenols and carotenoids, two groups of antioxidants known for their anti inflammatory, and heart-health promoting properties.
Pineapples : Contain disease-fighting antioxidants that may reduce your risk of ailments such as heart disease and diabetes. Pineapples contain bromelain, a group of digestive enzymes that may help break down protein and aid digestion. Pineapples have anti-inflammatory properties that may help enhance your immune function.
Spirulina: Is a type of blue-green algae that grows in both salt and fresh water. It is highly nutritious and a great source of protein, copper, and B vitamins. Phycocyanin is the main active compound in spirulina. It has powerful antioxidant and anti inflammatory properties. Studies indicate that spirulina can lower triglycerides and improve cholesterol levels, which may support heart health.
Chlorella : Contains many nutrients, including vitamins, minerals, antioxidants and omega-3 fats. Chlorella may help the body detox by binding to heavy metals and other toxins.
Kale : Is loaded with powerful antioxidants like quercetin and
kaempferol. They have powerful heart-protective, anti-inflammatory, anti viral and anti-depressant effects. Kale is very high in beta-carotene, an antioxidant that the body can turn into vitamin A. Many important minerals are found in kale, some of which are generally lacking in the modern diet. These include calcium, potassium and magnesium.
It is high in lutein and zeaxanthin, powerful nutrients that protect the eyes.
Matcha green tea : Contains a concentrated amount of antioxidants, which may reduce cell damage and prevent chronic disease.
Matcha has been shown to improve attention, memory, and reaction time.
It also contains caffeine and L-theanine, which can improve several aspects of brain function.
Chaga mushroom : With an appearance similar to burnt charcoal, it has been harvested for centuries as a traditional medicine. Chaga stimulates white blood cells, which are essential for fighting off harmful bacteria or viruses.
As a result, this mushroom could help fight infections — from minor colds to serious illnesses. It reduces gut damage.

Do I need this product ?

If you regularly consume at least three servings of fresh vegetables or greens every day, if your energy levels are good and you feel well overall, you probably don't need this product.
Delicious and very generously portioned!
I have the 250g serving which says it's 12 servings but I've had 12 servings and still have loads left! This is delicious, and doesn't have that horrible tang that most health products have. Normally you can taste the earth but this is really nice! For £20, I think this is a great product and one that'll definitely feature in my day to day life! I add it into soups, smoothies, and have it in lattes too!
Thanks so much El! We love how creative you are with it ! And yes it would last approximately two months, happy to hear you are enjoying it! :)
Team Wellnoa
Green power
Great detox and immunity drink.
East to make and tasty
Thanks so much for leaving a review ! We do all need some ease :) Glad you liked the taste !
Team Wellnoa
Amazing product!
I loved it. It tastes like matcha so made it easy for me to drink. Also super cute packaging and not sure if it was a coincidence but I felt much better too.
Hey Saule, thanks for taking your time to review! We are soo soo happy to hear that you loved it and felt better, we could blame the adaptogen included in the blend ! :)